Experimental Furnishings and Objects at Makers 2
Experimental Furnishings and Objects at Makers 2
Now in its second edition, Milan-based showcase Makers, on display until the end of June, presented collectible objects and potential icons at the Caselli 11-12 gallery, formerly a metropolitan toll booth.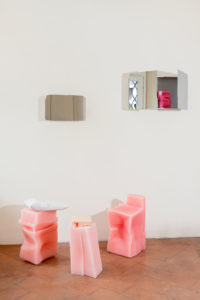 Wax chairs and resin pillow by Robert Wallace and cardboard stools by Illya Goldman Gubin at Makers 2.
MILAN — "You can sit on those, they are stronger than they look," Robert Wallace said of his reinforced wax stool topped with a plush-looking pillow made of gypsum resin.
Wallace, who moonlights as a designer of interior pieces, works as a fashion designer of dresses and outerwear by day. The U.K. native was just one of 39 names that released their latest creations at the second edition of Makers 2, hosted by Caselli 11-12 Art Gallery in Milan.
The venue comprises two refurbished Neoclassical toll booths, in the Porta Nuova district, and drew an intimate crowd of collectors, architects and the curious on Wednesday, its opening day. Caselli 11-12 is an extension of Oltrefrontiera Progetti, a design and architecture studio that has been operating in the retail and visual sector since 1993. Oltrefrontiera Progetti also renovated the 19th-century Neoclassic landmark — formerly toll booths.